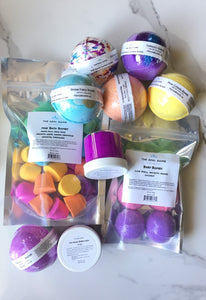 Includes:
Baby Bombs (assorted*)

Mini Bombs (assorted*)

6 x Bath bombs (*assorted)
2 x Fun Doh Bubble Baths
*You will receive assorted scent(s) hand-picked from our bestselling collection.
Total retail value: $80+
Your organization will receive $22.50 from every Ultimate Sampler Bundle purchased.
BATH BOMBS
Bath bombs are our signature product, packed with natural ingredients including Epsom salts. These fizzing balls of fun add an explosion of softness, colour and therapeutic aromas to your tub, leaving your skin feeling soothed, soft and fresh. Safe for all skin types, including sensitive skin, dry skin and eczema.
Ingredients:
sodium bicarbonate, citric acid, zea mays [corn starch], sulfate magnesium [epsom salt], fractionated coconut oil, aqua [water], butyrospermum parkii [shea butter], fragrance oil, pigments. May contain: Polysorbate 80.
FUN DOUGH BUBBLE BATH
Bring the play time in the bath tub with our fun dough bubble bath! Just like a playdo, this will be your new kid favourite.
Take a desired amount, and place under warm running water and enjoy the bubbles! or take a desired amount and you can have fun and play with it, just like a playdo.
Ingredients:
Zea Mays (corn starch),Cocamidopropyl betaine, sodium lauryl sulfoacetate, sodium C14-16 Olefin sulfonate, glycerine, propylene glycol (and) diazolidinyl urea (and) iodoppropynyl butycarbamate, mica