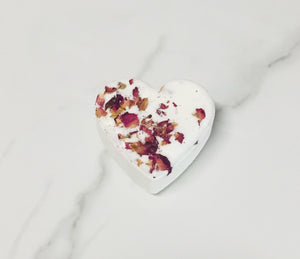 Draw yourself a warm bath and get ready to indulge in the experience of luxurious floating rose petals and sparkling bubbles of champagne are delightfully blended with tangy grapefruit, champagne grapes and deep plum. Features real rose petals.
Bath bombs are our signature product, packed with natural ingredients including Epsom salts. These fizzing balls of fun add an explosion of softness, colour and therapeutic aromas to your tub, leaving your skin feeling soothed, soft and fresh. Safe for all skin types, including sensitive skin, dry skin and eczema.
Ingredients:
sodium bicarbonate, citric acid, zea mays [corn starch], sulfate magnesium [epsom salt], fractionated coconut oil, aqua [water], butyrospermum parkii [shea butter], fragrance oil. May contain: Polysorbate 80.