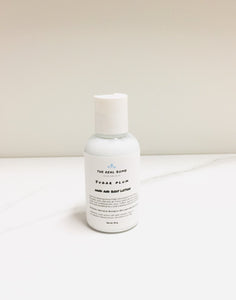 Juicy plums, sweet almonds, succulent apricots, warm figs and tangy cranberries intertwine with sweet honey, anise seeds, fennel seeds, cardamom and coriander. Ripe, juicy nectarines and warm vanilla musk blend harmoniously to unite and enhance this classic, festive accord.
This nourishing hand and body lotion is a combination of Shea butter, sweet almond oil and avocado oil. Effective for sensitive and dry skin, and works great as a hand lotion because it absorbs quickly. Features a convenient 2 oz. squeeze bottle. 
Perfect stocking stuffers! And also fits perfectly in your purse, backpack, car, toiletry bag...everywhere!
Massage lotion directly to skin, especially on dry areas.
Ingredients:
Butyruspermum parkii (shea butter) fruit, Prunus amygdalus dulcis (almond oil), gratissima (avocado) oil, stearic acid, emulsifying wax, glycerine, aqua, parfum, pigment, propylene glycol (and) diazolidinyl urea (and) iodoppropynyl butylcarbamate